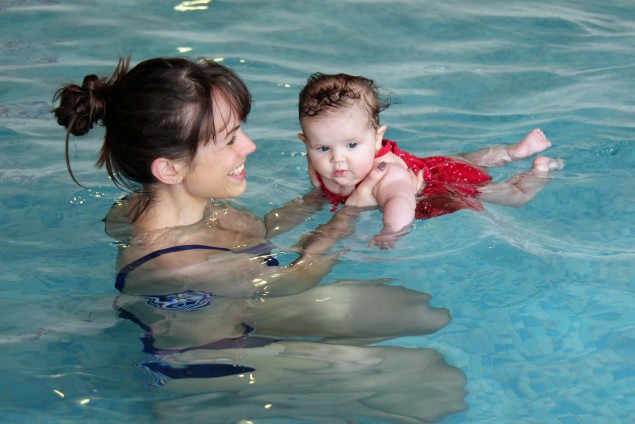 Baby friendly
We have worked hard to provide facilities and equipment to make life both easy and fun for parents and babies. The heated pool (with baby changing facility and playpen) and other play facilities are all suited to babies, but we also provide a wide range of equipment, at no extra charge, to make your life easier in the cottage. These include: baby baths and non-slip mats, travel cots with extra mattresses, playpens and a box of extra toys, baby bouncers, sterilisers, stairgates, fireguards, baby monitors, blackout blinds, socket covers, plastic crockery and cutlery.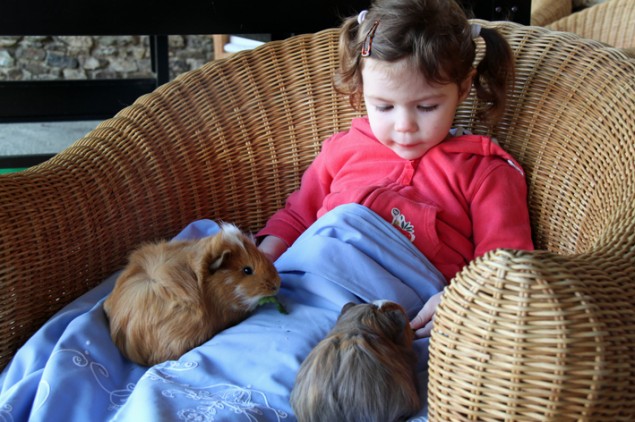 Toddler and Child Friendly
As your children get older we continue to provide facilities and equipment for them such as: travel cots with extra mattresses, bedguards, booster seats, highchairs, stairgates, fireguards, blackout blinds, non slip bath mats, toddler steps and built in toddler toilet seats, socket covers, plastic crockery and cutlery.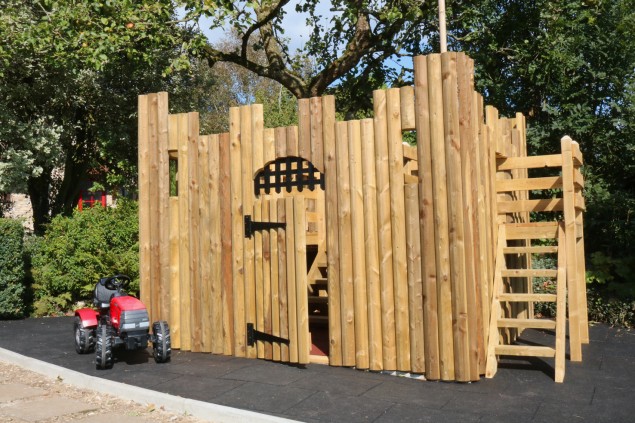 Wooden Play Fort
Children can engage in imaginative and creative play by themselves or with others in our two storey wooden play fort. The fort is surrounded by safety matting.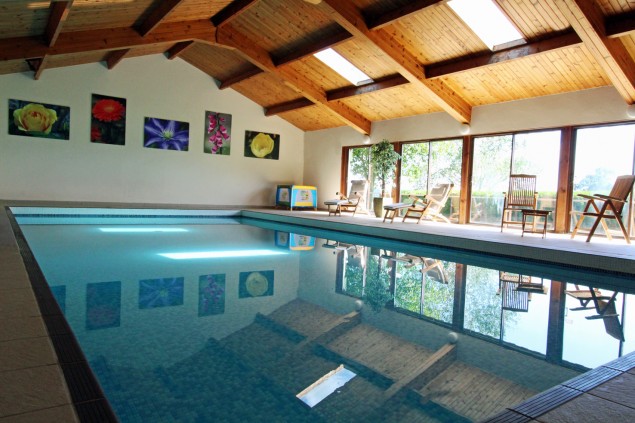 Indoor pool
Discreetly tucked away in a secluded corner of the garden is the luxurious, large, 36' x 18' (11m x 5.5m) indoor swimming pool (1 metre shallow end with max depth of 2 metres). It is heated to 30 degrees Centigrade and is open all year round. Ideal for getting babies used to the water. There are full changing facilities including baby changing, a power shower and WC.
There are steamer chairs to relax in and decking outside the pool with expansive views over the Otter Valley.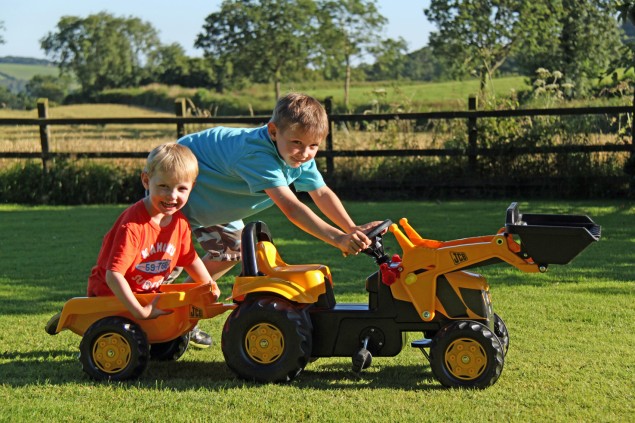 Covered play area
Ideal for the under 6's - an area with Little Tikes play house and small climbing frames, see saw and slides complete with rubber safety matting. Also ride-on toys including tractors and a giant trampoline and a giant connect 4. The toys are in a variety of sizes for different age groups.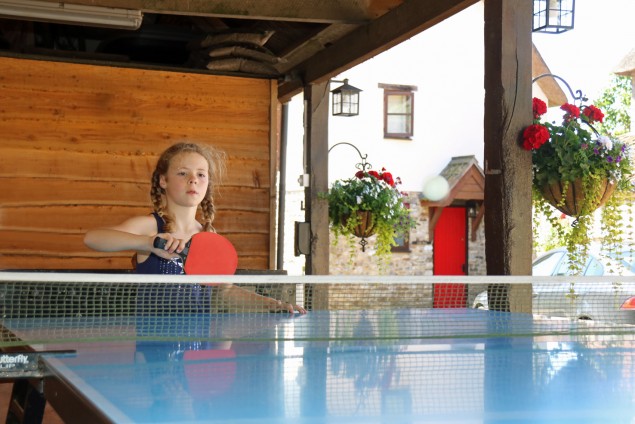 Thatched play barn
An open fronted play area with table tennis, table football table and giant jenga. During the warmer summer months we keep our rabbits and guinea pigs in this area and during the wet winter months our chickens are kept undercover whilst the rabbits and guinea pigs move into our office for extra warmth and protection.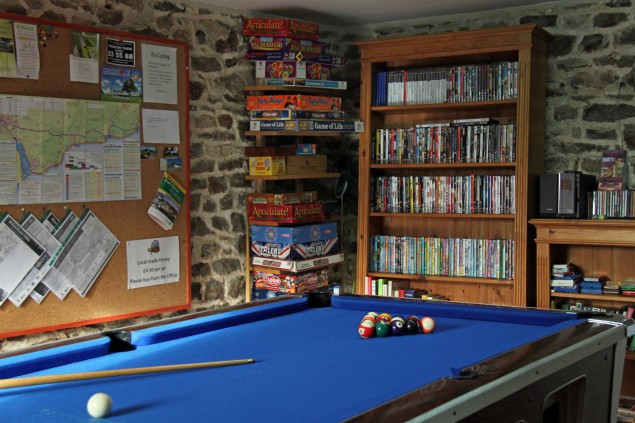 Games room
The Games Room houses a pool table, tourist information, golf clubs, croquet equipment, boules, an extensive selection of board games.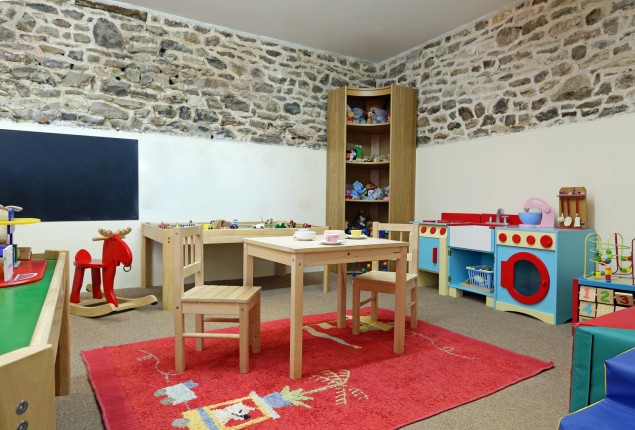 Indoor play area
The indoor play room is ideal for children up to the age of 6 with many activities ranging from play kitchen, train and farm tables, cars and garages. We also have a brightly coloured ball pool for toddlers. There is a colouring in table/board as well as a baby area with loads of cuddly soft toys.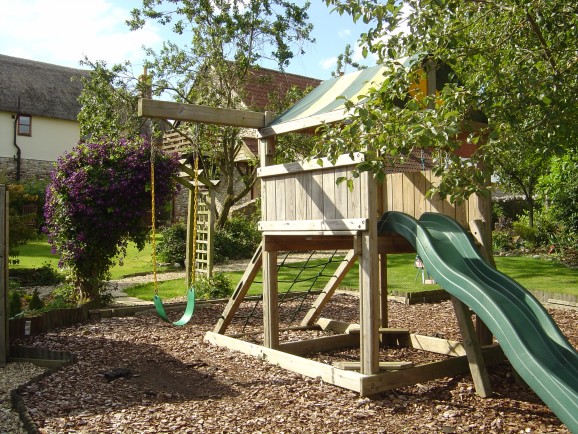 Uncovered play area
In another part of the garden is a wooden fort, play house and swings. There is a swing designed for toddlers up to 18 months old.
Croquet and putting lawn
In a secluded corner of the garden is a flat lawn with croquet and putting. Playing boules near here is also popular.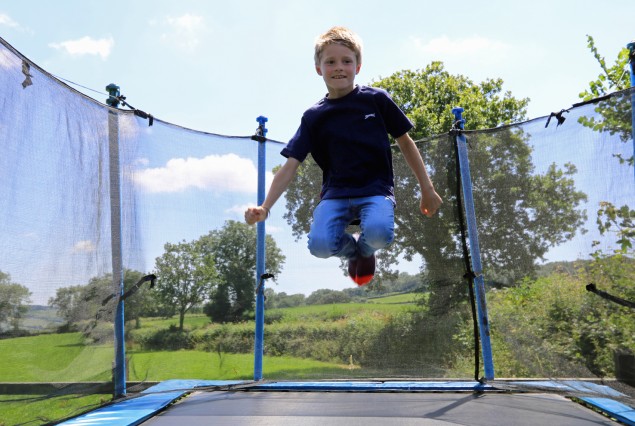 Large trampoline
Playing in the garden would be incomplete without the large trampoline.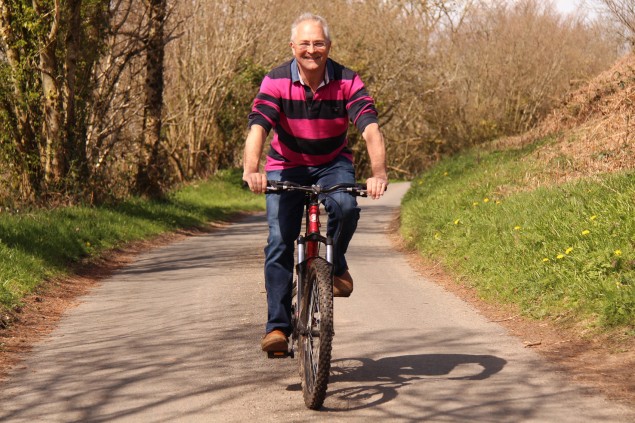 Walking and cycling
You don't have to get in the car to experience some delightful walks and cycle rides. Dumpdon Hill provides panoramic views across two valleys; the walk through the Otter valley to the Sidmouth Arms in Uppottery is rewarded by one of the Otter Brewery's beers; and the meander through the calm and peaceful woodland tended by the Buddhist retreat is a must.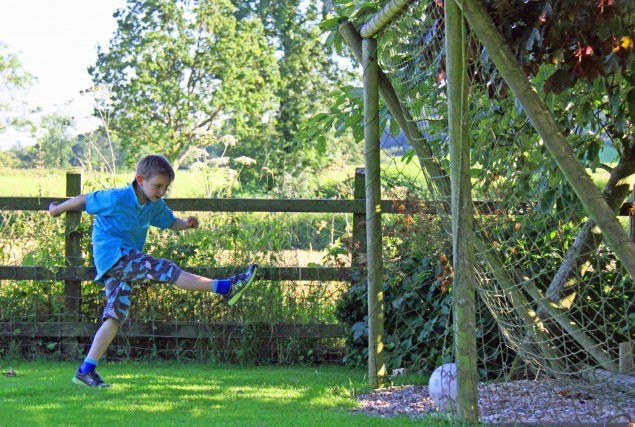 Goal!!
Always popular with kids of whatever age.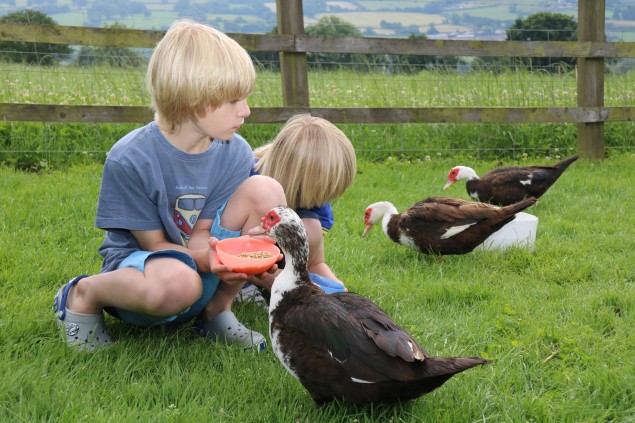 Animal Feeding
Saturdays, Tuesdays and Thursdays, we offer our interactive animal feeding. A great opportunity to get close to and learn all about the Red Doors Pets - guinea pigs, ducks chickens and pygmy goats. Watch as you see the childrens' confidence grow, a real highlight for many children.
Facilities & Activities
2 acres of well kept gardens with space to run around safely and quiet areas for relaxation
Large indoor swimming pool
Games room – with pool table, board games and DVD/PS2 library
Indoor play area – for under 6s
Thatched play barn – table tennis, table football etc.
Covered play area – with ride on tractors and other toys
Wooden fort, play house and swings
Croquet and putting lawn
Boules
Giant chess
Trampoline
Football area with goal posts
Walking and cycling from our front door