News from Red Doors Farm
Who Else Wants a Devon Holiday?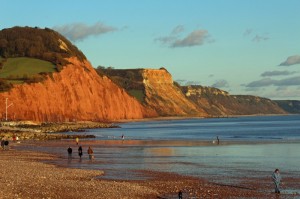 If you're a parent you'll understand…
If your children are happy, then you are happy. It's as simple as that! And that's one of the big attractions for a holiday in rural Devon. You see, with so much outdoor fun to keep your little ones entertained, there's just no time for getting bored. What's more, because the natural environment has so much to offer, you'll find your holiday budget will be happy too!
Let me explain…
Windswept open spaces that "blow away the cobwebs"
A designated Area of Outstanding Natural Beauty, the Blackdown Hills are nestled on the Somerset-Devon border. This wide expanse of unspoilt, rural landscape is tranquil and full of rustic charm. From the dramatic scarp faces to the rugged valleys, head here for family-friendly walks, off-the-road cycling and lots of interesting horse riding routes.
Your kids will love exploring the unspoilt surrounds. They can run free and explore. And whilst you're keeping a watchful eye, you can have some well-deserved adult time to walk and talk. Bliss.
Moody moorland that takes your breath away
Devon is home to two expanses of moorland – Exmoor and Dartmoor. So pull on some sturdy shoes, pack some snacks and a hot drink and just explore. You'll discover vast open spaces and older kids will love clambering over the rocky tors. There's plenty of clean, fresh air too so just allow yourself to relax, soak up the atmosphere and get away from everything.
And if you're feeling a little more adventurous, take a map and compass and navigate your way across the moorland. Even if you wonder just a short distance from the road, you can enjoy the feeling of remoteness and isolation. In addition, you're in for a treat with the outstanding views that just stretch for miles.
Incredible coastline
As well as vast open moorland, Devon is blessed with a spectacular coastline.
The beaches at Sidmouth and Lyme Regis are all within easy striking distance and are perfect for a fun-packed family day out.
Just over the border into Dorset, Lyme Regis has FOUR family-friendly beaches for you and your children to explore. Perfect for summer swimming and winter paddling, your kids will love the freedom to play. Two popular beaches to investigate are Church Beach and Town Beach.
Church Beach is best for rock pooling and shrimp catching. When the tide is low, your kids will enjoy clambering over the extensive rock ledge and peering into the hundreds of rock pools. Town Beach is great for a good run around and is the place to go for takeaways, restaurants and cafes.
The striking red cliffs at nearby Sidmouth form part of the region's World Heritage Site. These beautiful Jurassic cliffs formed around 240 million years ago. When you admire the sheer cliff face, it's almost like stepping back in time. Jacob's Ladder Beach is a popular destination for families. Located in a sheltered bay the beach is around a mile long. The beach is a mix of pebbles and sand and rock pooling is possible when the tide is low. Town Beach is again pebbly – until the tide recedes to expose some sand at low tide.
Lose yourself in the bustle of everyday life
Life in the quaint Devon towns and villages feels laid back and relaxed. The friendly market town of Honiton is famous for pottery and lace and is well worth an amble. Here, you can while away the hours exploring the back streets and courtyards as you discover an eclectic mix of independent shops. Honiton also attracts a variety of artists and craftspeople, making the town a good spot to uncover works of art – even something to take home.
Honiton is ideal for picking up some holiday souvenirs. You can also discover a delicious a variety of cafes, tearooms and restaurants to enjoy some local produce. And whilst you're in the area, make sure you try one of Devon's famous cream teas – it's one of our most loved specialities.
Sink back and admire the sunsets
After a busy day, there's nothing more peaceful than watching a sunset. The stunning backdrop of Devon's beaches, hills and moorland add to the beauty. On a good day, a Devon sunset can take your breath away. So whilst you're in the area, do plan a couple of late nights.
Enjoy Devon from a family-friendly farm base
If you want easy access to the best of Devon, why not stay in a luxury family cottage?
At Red Doors Farm, you'll discover a wide range of facilities to suit all ages. For example, children can play safely in two acres of well-kept gardens – and if the weather isn't kind, head to the covered play area, the games room or the large indoor swimming pool. All cottages are fully equipped with all the essentials you need to relax and enjoy a well-deserved break. To have a taste of what awaits you, visit the gallery.
What will you do on your Devon holiday?
Holidays aren't just about getting away from it all; they are also about the memories you create and the quality family time you spend together. You don't have to head for expensive theme parks and other attractions for a memorable day out (although Devon does have plenty to offer). Instead, come to Devon and play in the great outdoors. You'll create memories that will last long after you return