News from Red Doors Farm
Luxury Vi-Spring mattresses at Red Doors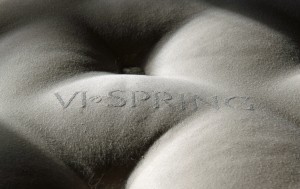 On our first day here, last August, we realised that the mattresses were not up to the standards we wanted to set. We recognise that a good night's sleep is an essential part of your holiday and we want to do everything we can to ensure that you have a peaceful and relaxing stay.
So with guidance from Peter Betteridge "The Bed Expert" in Honiton we were able replace all our mattresses with supremely comfortable Vi-Spring mattresses. The recognised quality of Vi-Spring mattresses demonstrates the level of quality that we are ensuring at Red Doors. We also changed all the duvets and pillows and started using white Egyptian cotton bedding.
So in harmony with the tranquility at Red Doors, we are doing all we can to ensure you get a good night's sleep.
If, once you sleep here, you agree that the beds are supremely comfortable, go and speak to Peter Betteridge as they can deliver across the UK.