News from Red Doors Farm
Only 19 Sleeps To Go!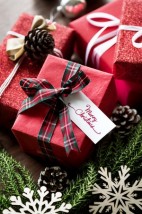 We are busy and excitedly getting ready for Christmas 2017 at Red Doors Farm. This year we have decided to buy in real Christmas Trees for some of our cottages, to replace the artificial ones and make it feel extra special for our guests this Christmas. We are also updating some of our tree, cottage and outside decorations to add that extra bit of luxury Christmas sparkle to the cottages and grounds this festive season.
News just in! We have received confirmation that Santa and one of his extremely helpful Elves will definitely be stopping off at Red Doors Farm and delivering gifts to those children that have been extremely well behaved all year! You will have to keep an eye out for Santa disappearing into the chimneys of each of our cottages, ably assisted by his Christmas Elf!
We are so looking forward to welcoming our returning guests and those that have not stayed at Red Doors Farm before, for what we hope will be a memorable and fabulous Christmas. See you soon!