News from Red Doors Farm
Red Doors Farm Easter Egg Hunt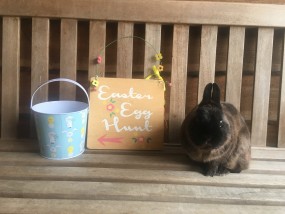 The Easter Bunny was out in the grounds hiding over 120 eggs early in the morning and all of our resident children turned up for our Easter Egg Hunt from 10:00am on Easter Sunday.
Fortunately, Sunday morning was lovely and sunny, so the hunt went without a hitch. The children had a fabulous time running around the grounds and finding their treasure.
On the Saturday morning, during our interactive animal feeding session, one of our hens layed each of the children a special foiled covered egg to collect from the nesting box. An unexpected Easter surprise! Whilst collecting their eggs the children learnt about our lovely hen, named Lemonade, who is sitting on some of her own 'real' eggs, which will hatch in the next week or so. They also saw the nest of one of our Muscovy ducks, which, at the time, had been left in order that the sitting duck could feed and drink. They could see that the nest had been made out of items she had picked up from around her paddock and from her own downy feathers, which helps keep the eggs nice and warm. So, we are expecting a clutch of Moscovy ducklings in the next week or so too. Its all happening down on Red Doors Farm!