News from Red Doors Farm
Family Fun at Red Doors Farm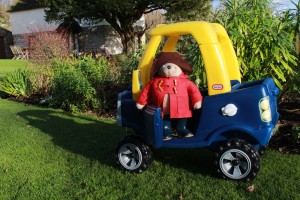 When planning a family holiday, it's important to check your children will be busy. As you know, when your kids are happy, you can relax too!
This is one of the reasons we've thought hard about the facilties at Red Doors Farm. How's this for a fun-packed list of on-site activities and facilities?
And what's your favourite activity?
Large indoor swimming pool
Whilst we can promise you a great time, we can't guarantee the Devon weather will always be kind! But don't worry if rain stops outdoor play. Instead, head to our large indoor swimming pool. The temperature is a warm 30° all year round, which means you won't be in a rush to get out. And if you've had enough before your kids, feel free to relax on the steamer chairs and enjoy the lovely views over the Otter Valley.
Covered play area
If you have young children, they'll love exploring the well-equipped play area. You'll find mini tractors, a trampoline, a giant Connect 4, a playhouse, climbing frame and a whole host of other ride-on toys. Your children can burn off their excited energy, and you can relax and enjoy some adult talk!
Thatched play barn
If you're feeling a bit competitive, head to the play barn and discover a selection of family games. Here you can play your kids at table tennis or table football – even have a family tournament! There's also a giant Jenga to keep you busy. The play barn is ideal if you have slightly older children and the games have been specially selected to allow you to play together. It's a great way to spend an evening or while away a few hours after a day out.
Games Room
Teenagers will find the games room is their home away from home! Here you can browse the extensive DVD and board game collection, there's also a pool table as well as golf clubs, croquet equipment and boules, books, a PlayStation3 and Wii with loads of games and extra equipement, all of which you are free to borrow.
Indoor play area
Again, perfect for under 6s, the indoor play area is great for keeping little ones busy and entertained. Babies can explore the soft toys and ball pool, whilst toddlers can play "kitchens" and "houses" in the home corner. You'll also find cars and garages, train sets and doll buggies – there's even a colouring table and chalk board if you want to encourage your children to have some quiet, creative time.
Outdoor play
The two-acre garden is spacious with plenty of open space for children to run and play in safety. Have a recce, and you'll discover a selection of facilities, which will keep you and your children entertained throughout the day.
Unsurprisingly, children love the wooden fun fort where they can climb, slide and swing. It's a perfect spot to "waste" a bit of spare time. If you fancy using the boules, croquet equipment and putters you spotted in the games room, head to the flat lawn that's tucked away in a secluded corner of the garden. Ideal for a spot of competitive fun, these are age-old games that can be played and enjoyed by all ages. There's a large trampoline where you can bounce and go crazy, as well as a goal where you can have a penalty shoot-out or a game of football. And, we have also built our own 2 storey wooden play fort, complete with portcullis and flag pole, for even more fun and games.
Animal feeding
Finally, no farm stay would be complete without the chance to feed a range of Red Door pets. From goats, to guinea pigs, to our friendly brood of chickens, these animal close encounters are a real favourite with lots of children. As a parent, you'll enjoy watching your children interact with the animals as their confidence grows during their stay.
Luxury, family-friendly cottages
After a busy day exploring and enjoying all the on-site facilities, what better place to head than a warm, cosy Devon cottage? All Red Doors cottages are well equipped and decorated and furnished to a high standard. Everything has been carefully considered to ensure you have a fantastic break including comfy beds, relaxing lounge rooms, log burners, and luxury bathrooms.
Would you like to enjoy all the on-site facilities? If so, check availability and prices. Whether you book a week or a short break, you'll find plenty of time to enjoy the on-site facilities, as well as the great Devon outdoors.