News from Red Doors Farm
New BBQ Hut arriving just in time for summer!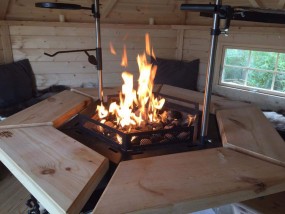 We have exciting news! A brand new hexagonal Ecotimber BBQ hut, which can seat from 12 to 15 people, is soon to be arriving at Red Doors Farm, for the use of all of our guests.
Obviously, we are hoping that summer 2018 is going to be gloriously sunny and hot, but the Great British weather can be a little erratic at times, so now you will all be able to BBQ no matter what the forecast!
The plan is to place the Ecotimber BBQ hut in the furthermost corner of the grounds of Red Doors Farm, so it doesn't interfere with any of the cottages, but takes advantage of the views over the local farmland and to the stunning Otter Valley beyond.
We really hope that our new BBQ hut will be a welcome addition to the list of facilities at Red Doors Farm and that our guests will make full use of it, even in the winter months!